Custom Impressions produces the K-Line illustrated album pages. K-Line was founded in the mid 1950s. These topical album pages are printed with a Scout green ink on exact index 110# white stock, 8-1/2" by 11", round-cornered with standard 3-hole punching.
Pages are arranged chronologically from Page 1, Cape of Good Hope Mafeking "Blues" with Sgt. Major Goodyear and Baden-Powell in 1900 through the latest annual supplement and the latest new issue. Your pages come with spaces and photos for each stamp, souvenir sheet, sheetlets, postal cards, airletters along with details of the particular issue such as country, date of issue, purpose of issue.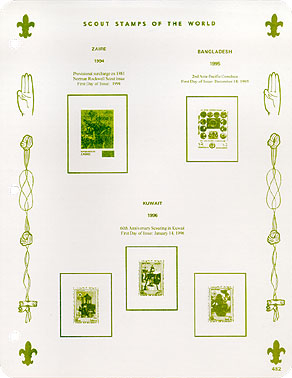 K Line album pages may be purchased in complete units, or in volumes, or in annual supplements. A complete set totals well over 1,000 pages.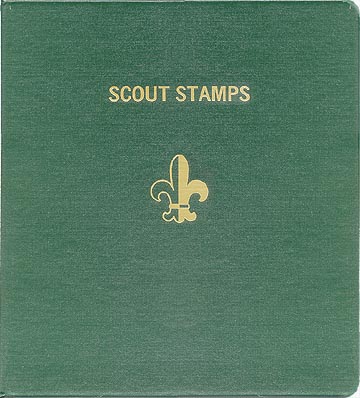 Scout theme binders are handmade and covered with Tuf-Cote Imitation Leather, which is the recommended standard for edition work, encyclopedias, and general book binding, and is Pyrocylin-coated for easy cleaning with a damp cloth. Each binder is green with gold stamping on the spine and face. Matching dust cases are also available. All binders are 1½" capacity.
Custom Impression publications are offered for sale by mail, fax, and use of their web site. Credit cards are accepted.

www.albumpublisher.com


Custom Impressions
P.O. Box 98
Orland Park, IL 60462-0098
Phone: 708-590-6257

---
SOSSI provides this information about Scout topical stamp collecting albums without compensation. Purchasers should investigate whether any stamp collecting album will meet their collecting requirements.