2009 || 2010 || 2011 || Future Years
---


February 22, 2012 Founderís Day is also a commemorative date in many countries.

February 22, 2012 - WAGGGS Thinking Day Activities Visit our special SOSSI salute to Girl Guides & Scouts.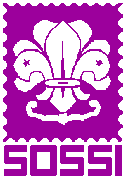 August 10 - 12, 2012 SOSSI Annual Convention & 61st Anniversary AMERICOVER 2012 American First Day Cover Society, Irvine Marriott, 18000 Von Karman Avenue, Irvine, California 92612, 1-949-553-0100.

September 28-30, 2012, EuroScout and IFSCO Meeting, in Rothenburg ob der Tauber, Bayern, Germany Sponsored by ArGe Pfadfinder e.V. This is the ninth biannual event. Bring your Scout Stamp exhibit to be shown with the best in the world.