ALBUM PAGE AND MAGNIFYING GLASS: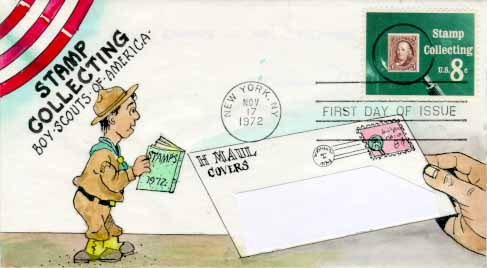 First Day machine cancel on cover with hand drawn and hand painted cachet by Herman Maul.
(No Scout stamp or cancellation known to this exhibitor shows stamp tongs).
This published page demonstrates knowledge of albums.

6. Display stamps that show the following: perforation, imperforate, roulette, cancellation, cover, mint, coil stamp, overprint, surcharge, engraving, and types printed by other methods including photogravure, offset lithography, typography, and letterpress.
PERFORATION AND IMPERFORATE (SEPARATIONS):
CANADA, 1983

Perforated 13½, double perforation in the margin both vertically and horizontally.

SIAM, 1920

Type II overprint on block of four. Imperforate between vertically. (ex-Walter Pears)