CZECHOSLOVAKIA, 1918
These stamps were individually die cut with simulated perforations. Two examples of progressive "negative" perforations on the 10 heller. Smallest is a miscut quadruple printing.

CZECHOSLOVAKIA, 1918
Printing impression of the 20 heller which is not "died-out". This shows the simulated perforation clearly.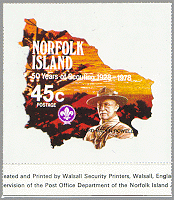 NORFOLK ISLAND, 1978
Robert, Lord Baden-Powell, on free form stamp on peelable paper backing with roulette perforations. Bottom margin shows the cut size.