This is part three in a series about World Jamboree philately. Please note that these series will not tell and show you all there is on World Jamboree philately, it just shows you a part of my collection. I am always interested in obtaining and trading World Jamboree material.
The 1929 World Jamboree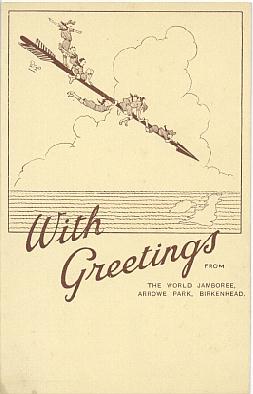 by: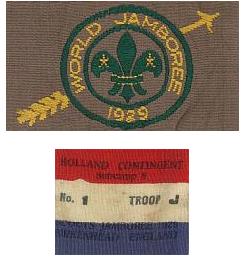 The 3rd World Jamboree was once again held in England, at Arrowe Park, Birkenhead near Liverpool. This was the second Jamboree held in England and some 50,000 scouts from 73 countries participated in this Jamboree. The two badges shown are the official jamboree badge and the Dutch contingent badge.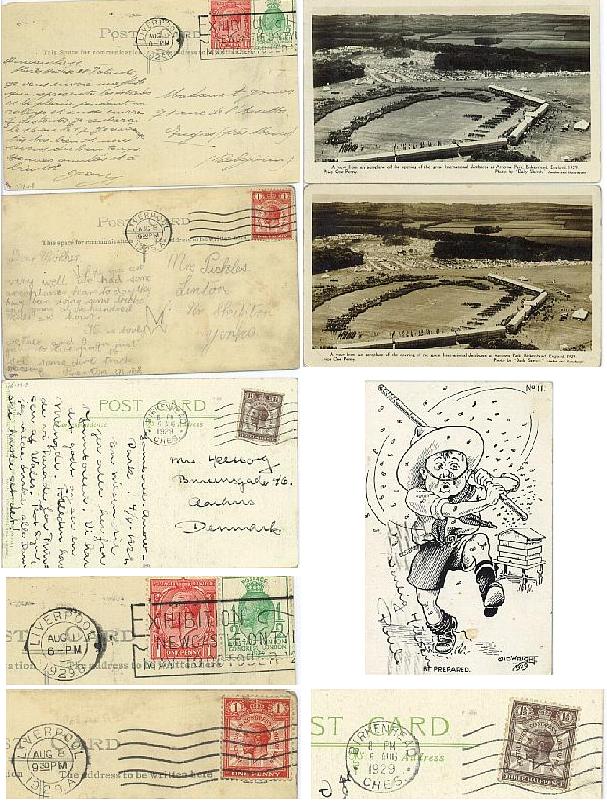 Ordinary mail, sent from the Jamboree went to the nearby post office in Liverpool to be cancelled with an ordinary post office machine canceller. Some of the mail went to the Birkenhead post office to be cancelled with a Birkenhead machine cancel. Shown are two of the known Liverpool cancels and a Birkenhead cancel. The two Liverpool cancels are dated August 8 and 11 The Birkenhead card is dated August 5. Both Liverpool cards show the Opening ceremony of the Jamboree but one card is black and white where the other is brown and white. The August 8 card was sent within England, the August 11 card was sent to Belgium. The Birkenhead card shows card no. 11 from Tommy the tenderfoot series and was sent to Denmark.
The USA contingent used it's own envelopes again. This cover was sent from the Jamboree on August the 4th, and has the ordinary Liverpool machine cancel. There is however one strange thing with the cancel, someone entered a written 4 over the printed 4 in the cancel.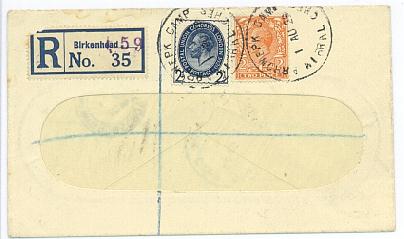 This was also the first World Jamboree with a special cancel for the occasion. At the Jamboree post office a special cancel was used for Registered and express mail. The cancel reads arrowepk camp wirral chess. The registration labels are from Birkenhead with a purple hand stamped 59 for the Jamboree post office. This cover was sent to Bromsgrove on August the 1st.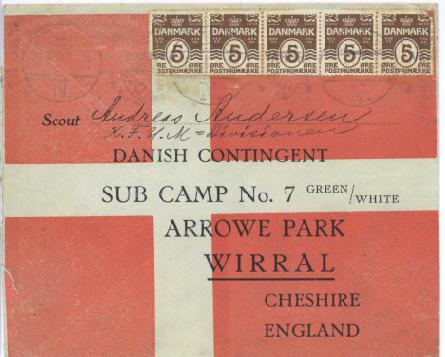 A lot of mail was sent to the Jamboree, the Danish contingent used specially preaddressed envelopes for it's contingent making things easy for the Jamboree post office.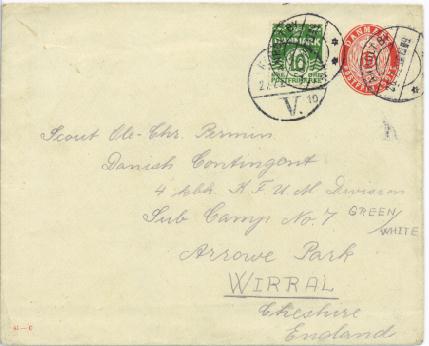 However, not everyone from the Danish contingent used these special covers as the cover above proves. Send from Anholt By July 26.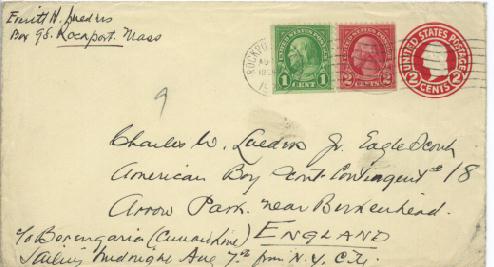 Other contingents didn't use special covers they were also less well addressed. This cover sent from the USA on August 1, to Eagle Scout Charles Lueders has a penciled 9 on it this was done by the camp post office to indicate that Charles was camped at subcamp 9.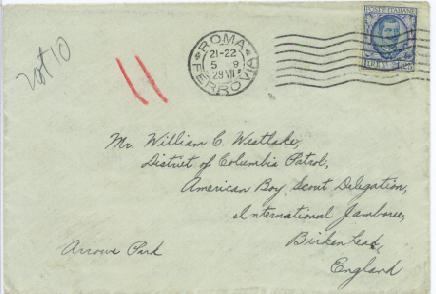 Another cover sent from Italy on July 29 to William Westlake of the American Boy Scout Delegation has penciled on it 'not 10' which indicates that he was not located in sub camp 10, it also has a red 11 on it so presumably William was located in sub camp 11.
Here ends the third part of my Jamborees series. This page is hosted by the S.O.S.S.I. It might take some time before I will finish with my next jamboree. Click here to go to: