The 6th Gippsland Corroboree held in 1975 at Lang Lang, Victoria was the occasion for a Scout Rocket Dispatch. The Victorian Space Modeling Association prepared and launched a 5 foot long by 2 inch diameter rocket. The rocket was built in two stages, the bottom stage with the solid fuel engine and the top stage for payload. When launched on the afternoon of March 28th, the rocket reached a height between 3500 and 4000 feet. The payload was carried by the wind and was recovered about 1 1/2 miles from the camp up a 50 foot tree.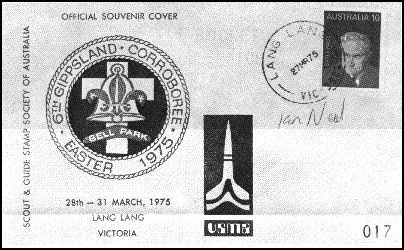 Souvenir envelopes sponsored by the Scout & Guide Stamp Society of Australia were specially printed and depicted the Corroboree Badge with a special rocket cachet printed in red. "VSMA" represents the Victorian Space Modeling Association. Covers 1-96 have stamps of Australian Prime Minister Earl Page, and covers 97-163 have stamps of Australian Prime Minister Arthur Fadden.
A total of 163 envelopes and 10 Certificates of Flight were carried in the rocket. This was the first philatelic launch for VSMA. All covers were numbered from 1-163 and each has a signature from key persons involved with the flight:
No. 1-33: Ken Neal, VSMA President
No. 34-64: Ken McNabb, VSMA Technical Officer
No. 64-100: Bill Malkovtzis, VSMA Grading Supervisor
No. 101-134: Neil Langford, VSMA Public Relations
No. 135-163: Gary Hughes, VSMA Newsletter Editor
A second rocket launched carried a movie camera to take photos of the camping area. The launching of the mail rocket was witnessed by about 800-900 Scouts, Scouters and visitors.
---
SOSSI Journal Volume 24, Number 3, March 1975
Created by Keith Larson