Dear Scouter,
Thank you for serving or thinking about serving the youth of America through the Boy Scouts of America as a Stamp Collecting Merit Badge Counselor.
The first thing is to be sure you are up to date on how BSA defines the role of Merit Badges and thier Counselors within the overall Scouting program.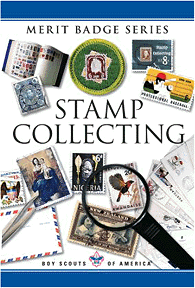 This Merit Badge Pamphlet is available through local Scout Distributors or Boy Scout Council Offices in the U.S. or on the ScoutStuff website.
In 2018, SOSSI created a "virtual" SOSSI Chapter for counselors of this merit badge. If you are currently registered as a stamp collecting counselor, please drop me an email including:
Your name, and phone number
Your email address
Your BSA Council
Some information about the last time you taught the badge - i.e., the date, venue and number of boys earning the badge and any issues or problems you encountered.
Our "virtual" chapter will hold several meetings a year via internet or a telephone conference call to exchange ideas, resources, best practices and experiences. We are also working on ways to identify new opportunities to offer the stamp collecting merit badge. For example, we know that many councils or districts offer merit badge camporee events. If we can become aware of these far enough in advance, we would like to have SOSSI members help organize an offering of the stamp collecting merit badge at such events.
We are also trying to identify other groups and individuals who may not be members of SOSSI but who are actively involved in the merit badge. Maybe they also can be involved with our virtual group as informal members until we can convince them to join SOSSI. If you are aware of such individuals, please let me know.
Pete Metzloff
Chairperson, SOSSI Board of Directors
SOSSI Web Resources
:
Resources Available from other Organizations
:
Reference Materials
:
YouTube Video
: