Last summer while exploring the souvenir shop at the National Postal Museum in Washington D.C., I came across a recently published book entitled Triangular Philatelics. A brief thumbing through convinced me I had found not only some interesting reading for the plane flight home, but also many hours of personal research on a study area within my existing topical collection of Scouts on stamps.
---
Topics & Themes
---
The first triangle-shaped stamp was the 1853 Cape of Good Hope. Over fifty years later, Lord Baden-Powell started the Scouting movement in 1907. The first Scout triangle postage stamp was not issued until 1963, although numerous triangle labels were printed to commemorate Jamborees or to assist in fund raising activities. The boon of spurious issues by "black-list" countries in the 1960's included several of those that released Scout triangle stamps. However, postally used examples of these issues can be found and all Scout triangle issues are listed today by the Scott Catalogue.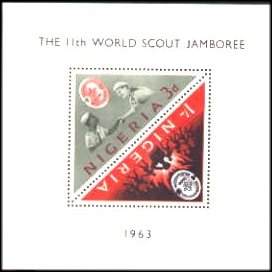 Nigeria honored the 11th World Jamboree hosted by Greece on the first two Scout triangle values issued [Scott#145-46A] on August 1, 1963. One design by Stephanos Apostolou features Nigerian and Greek Boy Scouts exchanging a Scout handshake with the World Jamboree emblem in the form of a Greek warrior shield above. The higher value designed by G. A. Okiki depicts Scouts circling around a campfire and the Jamboree emblem. A perforated souvenir sheet containing both stamps arranged tete-beche was also released. The stamps were printed in sheets of 60 on "FN" watermarked paper.
The 6th Inter-American Scout Conference hosted in Kingston from August 25-29, 1964 was the occasion for the first of two Jamaica Scout triangle issues [Scott#235]. About 120 delegates attended the conference including Scout leaders from North, South and Central American nations. Boy Scouting has flourished in Jamaica since 1910.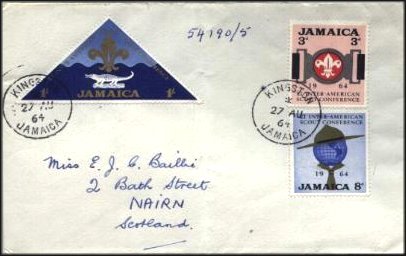 The triangle design by Victor Whitely features the Boy Scouts Association of Jamaica insignia over an alligator, symbol of Jamaica. This stamp was featured on an announcement sheet with the other two stamps. Panes have 60 stamps arranged 12 x 5, tete-beche. Only 235 tete-beche sets of the triangle stamp are known to exist. The stamps were printed on paper with a pineapple and "J" watermark.
The United Arab Republic issued [Scott#630-1] a August 28, 1964 commemorative triangle set in Alexandria, Egypt to mark the 6th Pan-Arab Jamboree. Designed by Sadek Rafael, one value shows the badge of the Jamboree, the other has the insignia of the Air Scouts. The set was printed Se-Tenant with sheets of 70 stamps containing 35 triangles of each design.
Jordan issued a set of 7 triangles and a souvenir sheet [Scott#484-490A] in Amman honored Jordanian Scouting in 1965. Each value has a different center design produced using the "Scraper Board" method. Victor Whitely and David Slater produced the drawings for these stamps by scraping away the black coated surface of special art board, which exposes the white areas beneath.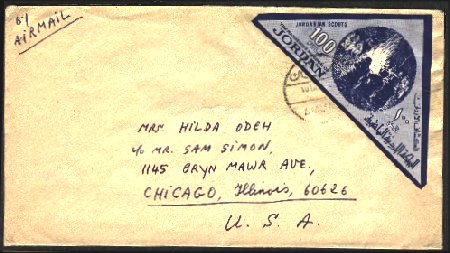 The Jordanian triangle stamps depict Scouts in action; crossing a river on a foot bridge, first aid practice, exercising, knot tying, cooking in camp, sailing, and participating in a campfire. These stamps are known to be available individually, in a sheet, imperforate, and in a souvenir sheet. The souvenir sheet was issued imperforate only.
Guiding was started in Jamaica in 1915 by Miss Daisy Jeffrey-Smith. The Jamaica Girl Guides were commemorated on their 50th Anniversary with a Scout triangle stamp in a set issued [Scott#241] on May 17, 1965. Varieties for this set include a sheet of 60 stamps, a presentation card, and an announcement sheet with both values. The triangle value was arranged tete-beche, and the stamps were printed on paper with a pineapple and "J" watermark. Here is a commercial usage.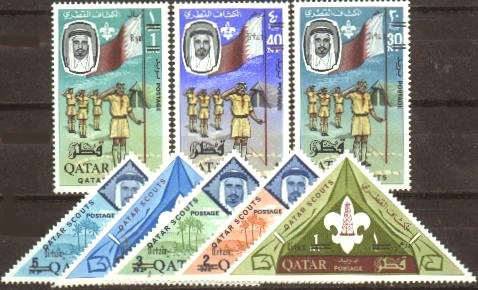 Typical scenes of the Qatar Boy Scouts appear on a set of stamps including 5 triangles and three rectangular stamps issued [Scott#53-57] May 22, 1965 in Doha. Imperfs were issued but they were not available at the post office. The souvenir sheet associated with this issue does not contain the triangle designs. A local currency revaluation resulted in an overstamped variety [Scott#113-113D] in black with a surcharge on December 21, 1966. The surcharge issue exists imperf.
The 50th Anniversary of the Girl Guides of Gibraltar was marked with a set of three triangle stamps [Scott#322-24] issued on October 10, 1975. Designed by A G. Ryman, 25 stamps are in each pane. Collectors can choose Tete-Beche sets or individual stamps.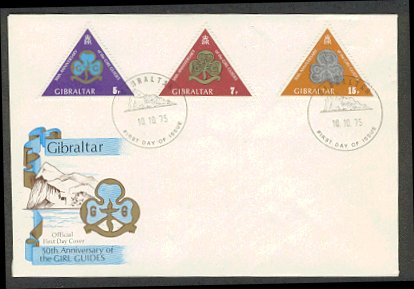 Karachi Pakistan was the first day site of the November 8, 1985 issue to commemorate [Scott#658] both the United Nations International Youth Year and the 10th Pakistan National Scout Jamboree held in Lahore for Boy Scouts. The Pakistan triangle was issued in panes of 40 stamps, and can be collected tete-beche. The stamp pictures in small frames the IYY emblem, Scout tents, the Pakistani Scout emblem, Scouts shaking hands and a campfire.
The Republic of China (Taiwan) released a Scout triangle [Scott#3189-86A] on August 5, 1998 to commemorate the 20th Asia-Pacific Jamboree and the 8th Scouts of China National Jamboree. The two values were released in sheetlets of 16 (4 x 4 blocks of 4 triangles). There also was a Specimen overprint variety.
As there has only been ten issues of Scout triangles, this small set is excellent for a beginning topical collector or an exhibitor in a single frame exhibit. The ten issues break down into 8 sets for Boy Scouts and 2 for Girl Scouts and Guides. A mint collection of all Scout triangle stamps and souvenir sheets can be obtained for under $30. Cancel to order (CTO) sets are not frequent. Scout triangle covers are more elusive and exist usually as philatelic first day of issues.
Topical collectors interested in beginning a triangle stamp collection should obtain a copy of Triangular Philatelics: A Guide for Beginning and Advanced Collectors by Chris Green, published in 1998 by Krause Publications. This is the first book to focus exclusively on triangular stamps. Each issue is listed and described in detail with more than 3,000 listings. It is available from both most philatelic book dealers and major internet book dealers.
The American Topical Association and the American Philatelic Society do not have a specific member club or study group that specialize in triangle issues.
© 2000

Linn's Stamp News, Sidney, Ohio, USA.
Reprinted with permission