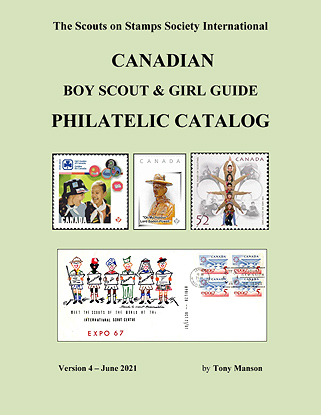 Other than a few limited lists of cancellations, there has not been any other attempt at publishing a comprehensive catalog of Canadian Scouting philatelic material.
This Catalog is a chronologically arranged, fully illustrated catalog of Canadian Boy Scout and Girl Guide stamps, cancellations and covers from the early years through to the end of 2020. It illustrates both stamps and over 50 scouting/guiding Picture Postage issues. The cancellation section includes over 75 slogan cancels & over 80 event cancels. There are over 1800 images of philatelic covers including over 190 from each of the 8th World Jamboree in 1955 and the 15th World Jamboree in 1983.
There are a number of helpful Appendices including early "Boy Scout Message" envelopes, Canadian Philately from other World Jamborees, a list of Jamborees held in Canada, a Glossary of philatelic terms and a Checklist to record individual collections. An Index assists in easily locating items.
More than a mere philatelic catalog, this document is a valuable resource in describing and understanding the history of Scouting and Guiding in Canada. It records major events such as World Jamborees, Canadian and Provincial Jamborees, Girl Guide Camps and special anniversaries of a wide range of local and national organizations. The use of side-bars throughout the Catalog adds historical comments to the illustrations, making it interesting reading for any Scouting enthusiast.
Version 1, the only printed version, was originally published by The Scouts On Stamps Society International, Inc. (SOSSI), in May 2008 with 242 black/white pages. Version 4 now has 471 pages, updated through 2020 and in full color.
Access the Manson Catalog Version 4.