This letter is a thin sheet of paper as shown. It is a PIGEONGRAM sent from the 1950 United States National Jamboree held in Valley Forge, PA. There were three homing pigeon clubs involved in this most interesting form of Air Mail; The Paterson Homing Pigeon Club, Riverside Homing Pigeon Club and the Westside Homing Pigeon Club.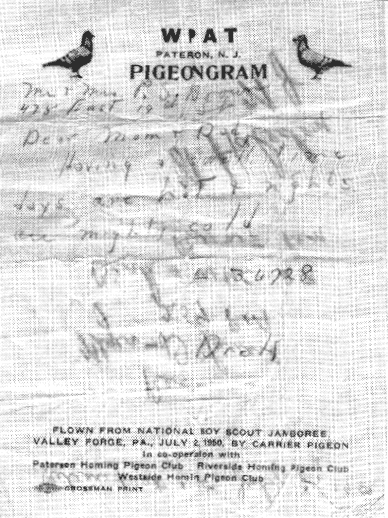 This event took place on July 2, 1950 as noted on the WPAT (Radio Station 930AM Paterson, New Jersey) lettersheet. The sheet is printed in black and all writing has been done in pencil. The sheet has been folded many times so it could be attached to the leg of the bird. The letter is addressed to Mr. & Mrs. P. S. Brown of 478 East 19th Street (Paterson NJ next to North Haledon NJ). The message is Dear Mom and Dad, Having a swell time, days are hot + nights are mighty cold. 36728 Dick.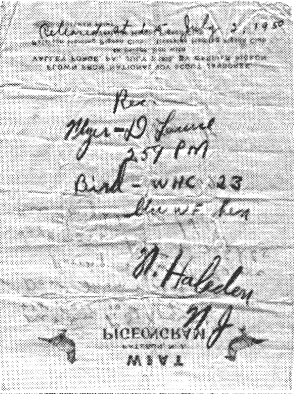 The back side of the sheet shown above has information on the time of the bird's release; 1:15 July 2, 1950 and its arrival; Rec'd Myer-D Laurie 2:59PM, Bird WHC23, blu W F hen, N. Haledon, NJ. It took 104 minutes to travel the 87 miles from the Valley Forge Jamboree to her home loft. That's 1472 yards/minute; a respectable pigeon speed.
---
SOSSI Journal Volume 44, Number 1, January-February 1995