Bangkok stamp dealers, who bought stocks of the Type I, II and III overprints for resale to their customers, used the unsold remainders for postage through the 1920's and into the 1930's, both on commercial mail and philatelically inspired covers. Collectors interested in such material should carefully research early air routes to confirm that the air flight occurred. Period Siam Scout Overprint covers franked with air cancels are known to actually have traveled by land and sea to their destination which had no air service at the time.
This August 26, 1931 registered airmail cover includes 5s(on 6s)+5s "Scouts Fund" Type I overprint with five 1919 "Red Cross" overprints. This is a first flight inaugurating contract air mail in Siam. Posted at the airfield at Nagor Rajasima, aka Khorat, where the rectangular cachet, "First Flight/Air Mail by the Aerial Transport Co. of Siam, Ltd./Korat and Udorn/August 24, 1931" was applied.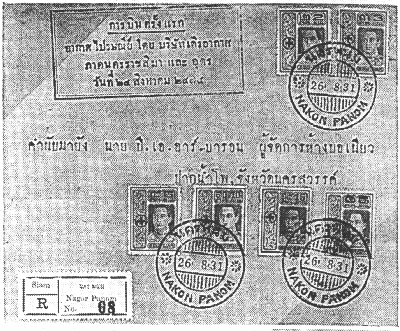 This was one of 150 covers originating in Nagor Rajasima an flown to Nakon Panom, aka Nakhom Phanom, on August 25, and postmarked and registered on August 26. The cover was then flown back to Najor Rajasima and forwarded by surface to Paknampo, Changwat Nakhon Sawan for delivery. The 40s franking paid the registered inland air mail single weight letter rate (25s + 15s).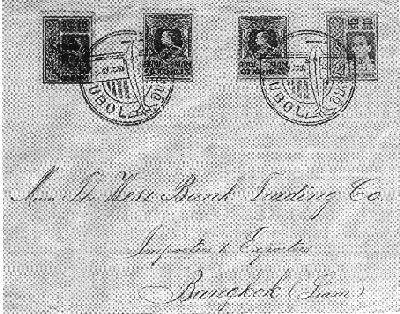 This 1921 commercial flight cover to Bangkok is struck twice with the Ubol airplane pictorial cancel for inland air mail.
C.J. Chan was a stamp dealer who prepared covers for many early Siam inland air mail flights. On October 2, 1928, mail left Bangkok on the inauguration of Bangkok-Marseilles, France-London, England service. The mail was flown over the Marseilles-London leg of the route. Fawdry reports that there were only about 35 covers carried on this air mail first flight, the small number probably due to the fact that the public did not feel justified in paying additional postage for the savings of half a day of transit time. The majority of these covers were prepared by Chan, including at least one franked with the 10s+5s and 25s+ Type III overprints.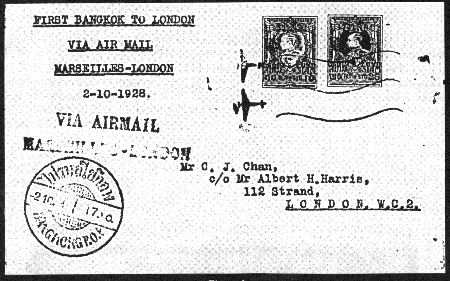 Chan's covers were addressed care of Albert H. Harris, a stamp dealer whose shop was on the Strand in London. Harris forwarded some of the covers to Chan's customers in Europe and returned the rest to Chan for his customers in Southeast Asia. The stamps were canceled in violet with a special cachet of two airplane silhouettes trailed by three wavy lines, which was used only in the autumn of 1928. The VIA AIRMAIL MARSEILLES-LONDON cachet in black was applied by the Bangkok G.P.O.
---
SOSSI Journal, Volume 43, Number 9, November 1994
SOSSI Journal, Volume 45, Number 3, May/June 1996
SOSSI Journal, Volume 45, Number 5, September/October 1996
Created by Keith Larson