Custom Impressions produced the K-Line illustrated album pages. K-Line was founded in the mid 1950s. These topical album pages are printed with a Scout green ink on exact index 110# white stock, 8-1/2" by 11", round-cornered with standard 3-hole punching.
Pages are arranged chronologically from Page 1, Cape of Good Hope Mafeking "Blues" with Sgt. Major Goodyear and Baden-Powell in 1900 through the latest annual supplement and the latest new issue. Pages came with spaces and photos for each stamp, souvenir sheet, sheetlet, postal card, airletter, etc. along with details of the particular issue such as country, date of issue, and purpose of issue.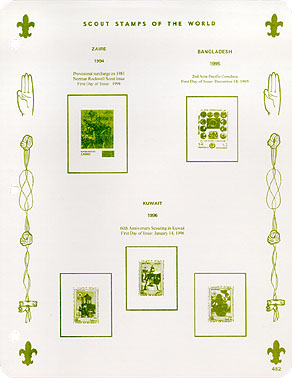 K Line album pages were available in complete units, or in annual supplements. A complete set totals well over 1,000 pages. Scout theme binders with matching dust cases were also produced.

Regrettably, Custom Impressions is no longer in business. Today, the pages remain as a comprehensive reference of the varied Scout issues of the period.