This was a starters stamp collection album, offered as a starter stamp kit manufactured in 1965. The entire package in the custom designed box is entitled MY FIRST STAMP OUTFIT. There are three books, one hardback album for pasting stamps (nearly 100 pages), a paperback stamp guide entitled "A Guide to Stamp Collecting", nearly 100 pages, and a 1966 Fall-Winter Stamp News publication. The album is copyrighted 1953, and has back pages reserved for the Boy Scout Stamp Collecting Merit Badge.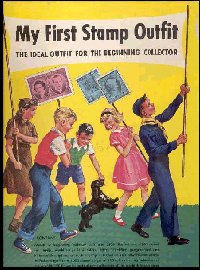 The kit was published by Minkus Publications, Inc., New York, in 1965. The album itself contains spaces for over 4,300 stamps, 2500 illustrations, world maps in full color, historical and geographic descriptions of each country, requirements for Boy Scouts merit badge, guide to the beginning stamp collector, and a stamp identifier. Earlier editions of the kit contain a stamp news book from Marshall Field & Company dated November 1952.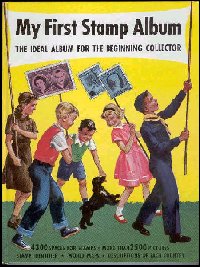 The kit included 100 collector stamps and country/Coat of Arm flag stamps. A pair of tweezers and two plastic magnifying glasses are also included.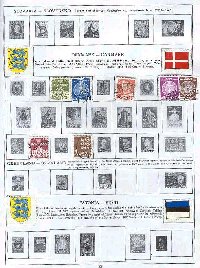 "My First Stamp Album" was in publication in 1967. This edition shows a change in the Brownie Girl Scout uniform and the stamps held in signs by the children.