Phildom Philately, previously known as Filatelia Domfil, founded in 1971 in the city of Sabadell de Barcelona (Spain), is a philatelic publisher specializing in thematic publications and album pages.
Phildom offers printed album pages for "Scouting and Other Youth Movements." The pages begin with commemorative issues from 1900, with period year sets now totaling 694 pages. The last year of pages printed is 1998. The pages are printed in black and white and do not include the stamps. Pages include text in Spanish and English.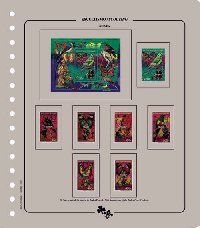 Phildom publications are offered for sale by mail, fax, e-mail, and use of their web site.

http://www.phildom.com Credit cards are accepted. Email admin@phildom.com

Phildom (used to be Filatelia Domfil)
Jesús, 5-7
08201 Sabadell (Spain)
Tel. +.34.937.271.676
---
SOSSI provides this information about Scout topical stamp collecting albums without compensation. Purchasers should investigate whether any stamp collecting album will meet their collecting requirements.