The Care Bear cartoon characters were created by American Greetings in 1983. They have become a collectible similar to Beanie Babies.
Care Bears appear on greeting cards, books, movies, video, and many other items made by over 200 manufacturers. Care Bears and Care Bear Cousins are the property of Hasbro, Kenner, Those Characters from Cleveland (TCFC), and American Greetings. Postage stamps issued with Care Bear designs were licensed by World Philatelic Marketing.
The Care Bears live in a wonderful place named "Care A Lot" that is full of fluffy white clouds and colorful rainbows. This is where the sun always shines, and the skies are always blue. But Care A Lot isn't all fun. This is also where the Care Bears watch over Earth, and help keep away sadness, worries, and mean people like Professor Cold Heart, No Heart, and Dark Heart, who want to take away all of the caring in the world.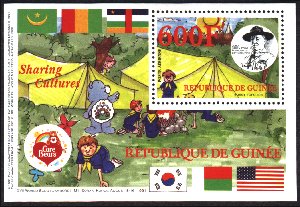 This souvenir sheet is one of 7 values [#1178A-G] in the "Care Bears Promoting Environmental Protection" issue by Guinea. This sheet also commemorates the XVII World Scout Jamboree held in 1991 in South Korea. The sheet design shows Environmental Share Bear next to Cub Scouts around a camp fire. A Care Bear logo with Tenderheart Bear is also included. The perforated stamp incorporates an image of Lord Baden Powell. The postage is 600 francs, and indicates it is for air transport.