What is the story behind a stamp? The 1962 Austria (Scott#684) is a particularly nice engraved stamp showing a Scout handshake. Of course it honors the 50th anniversary of Austrian Scouting and the first day of issue, October 5, 1962, coincided with the First International Scout Postage Stamp Exhibition in Vienna. Aside from some details of issuing and the design by Adalbert Pilch, what more is there to say?
Two years ago while I was hosting three visiting Austrian Scouters the conversation turned to one of my favorite subjects, stamps. While politely looking at my collection the Austrians spied the first day cover from their country. "Do you know the story of this handshake?" they asked. They pointed out what I had never seen, the hand on the right was shaking with two fingers while the one on the left used three.

They went on to explain the significance of the handshake. From 1938 to 1946, during the Nazi period, Scouting was banned in Austria. However, it didn't go away, but went underground. Of course the uniform was not allowed and other displays of Scouting such as the Scout sign and salute would instantly be recognized by soldiers or police. The two and three fingered left handshake was adopted as a subtle recognition signal. In honor of those brave Scouts this handshake was continued after the war.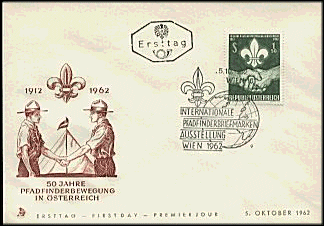 There was another Scout recognition. On the first day cover the 1912 Scout has his shirt sleeve lose in the normal fashion while the 1962 Scout has his rolled under. While Scout uniforms couldn't be worn in public, this was a symbol that could be passively displayed and seen from a distance. It too was adopted by the Austrian Scouts after they returned to World Scouting in 1946.
---
SOSSI JOURNAL, Volume 48, Number 1, January-February 1999