In life, there is an old saying: "No one knows everything about everything." And this can really be applied to our hobby or interest in Scout stamps, or any other aspect of stamp collection. But there is a lot that can do to be knowledgeable about ones interests. And the more one knows, the more one can enjoy their hobby or interest, and even benefit.
It's a great thrill to secure an item for a collection for pennies when the value is worth as many dollars as the pennies spent. And this generally happens because whomever is selling the item doesn't know the value or significance of the item that would make the item of value. And by the same means, if we as collectors should be ignorant of the item and not secure the item and then find that another collector got this item, whom are we to blame? Only ourselves.
So how does one go about getting this knowledge? Read the journals and newsletters published by the societies or clubs to which one belongs. Read the magazines or newsletters of the Scouting organization or which one is a member. And with Scout stamps, know some of the history of the Scouting Movement, dates, and what is going on. Also, ask questions at stamp club meetings, study exhibits at stamp shows and examine materials and offerings of the dealers. Talk to other collectors, especially fellow Scout stamp collectors.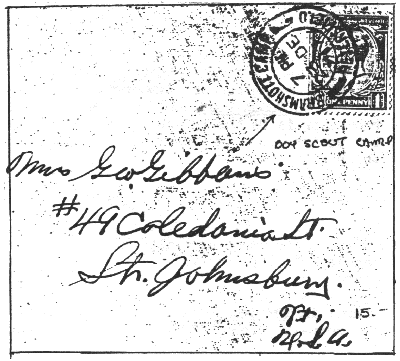 A Camp Cover?
An example of where knowledge plays an important part is illustrated by this cover. The first impression would be that this is a Scout cover because the cancel says "Camp" and someone has noted that the cancel is a "Boy Scout Camp." And being postmarked "1917" only ten years after the founding of the Movement, the price indicated would tend to make one believe that this was the "find of a lifetime" and at a fantastic bargain price! But examination should make one wonder if Scouts would be holding a camp in the middle of an English winter and only two days before Christmas.
Next, with knowledge, one would know that the first British Scout postmark did not appear until August of 1936. Thus, this is not a Scout cover, but actually a cover from one of the many Army camps that were in existence at the time since 1917 was in the midst of World War I.
---
SOSSI Journal, VOL 42, No. 6, June 1993
Updates and modifications by Keith Larson, 1999