What would you get if you crossed a rabbit with a Scout?
A rabbit who helps little old ladies hop across the street.
Cartoon characters at movies and on television have amused and entertained through comedy themes for over 70 years now. Bugs Bunny was first conceived at Warner Brother Studios in 1940 as the irrepressible foil for hunter Elmer Fudd.
Bugs Bunny first mentioned Scouting trying to save Granny from Yosemite Sam in the 1953 animation "Hare Trimmed." Bugs says, "That evil character's going after that nice old lady's money. Looks like this Boy Scout's gonna do his good deed for the day."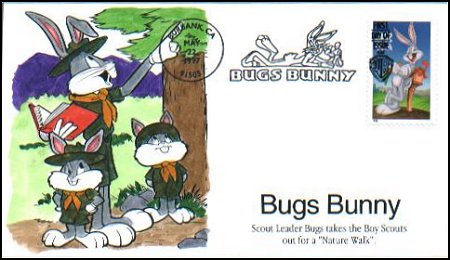 Bugs would include Scouting in two other cartoons. In "Hot Cross Bunny", Bugs is cooking a wiener over an open fire while impersonating a Boy Scout. In "Bugs Bonnets" Elmer's hunting Bugs as usual, when these hats start blowing out of a passing van. Each hat brings on a new identity, including a Boy Scout. There is even a published book entitled "Sea Scout Rout" with Bugs continuing in his Scout leadership role.
Several other Looney Tune Cartoon Characters have also been featured in a Scout role. No Looney Tune cartoon stamps have yet to feature a character in a Scout role.
Baby Huey
Catanooga Cats
Flintstones
Jetsons
The Littles
Mr. Magoo
Quick Draw McGraw
Winsome Witch
Yogi Bear