This is a registered mail tag for a package from National Commercial Bank and Trust in Cobleskill, New York to the Federal Reserve Bank in New York City. Registered mail provides the highest level of security offered for mail delivery.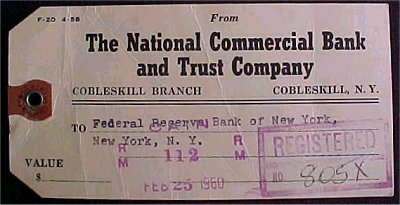 Mail is accounted for by piece number in special ledgers with signatures. The address side of the tag has two registration hand stamps. The box hand stamp on the lower right has a #805X in ink from the Cobleskill Post Office. The hand stamp in the center dated 25 FEB 1960 with #112 was at the Federal Reserve receiving station.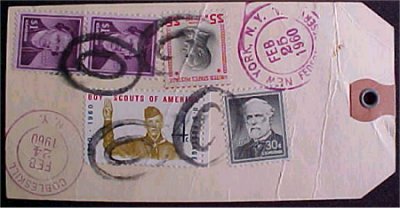 The back of the tag has the postage and hand cancels for the post offices. Clearly stamped is the originating post office at Cobleskill, New York on 24 FEB 1960 and the receiving post office at the Federal Reserve Bank in New York City, New York on 25 FEB 1960. A total of $7.34 in stamps is applied for the registered service and postage. The bank in Cobleskill was likely returning a heavy bag of worn out currency to the Federal Reserve, hence the high cost of postage.