Brazil's Scout stamp pictures a statue given to the youth of Brazil by the youth of Chile for their help in the 1923 earthquake. The statue is located on the Praia do Flamengo in the city of Rio de Janeiro and was unveiled Dec. 2, 1923. The Chilean sculptor was Fernando Thauby.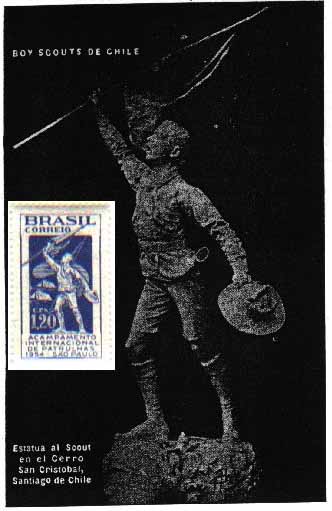 As a token of gratitude for the aid given after the great disaster, the statue base is inscribed:
"ALWAYS READY -
FRIENDSHIP -
GRATITUDE -
FROM THE YOUTH OF CHILE TO
THEIR BROTHERS OF BRAZIL"


The stamp was issued during the International Encampment of the Boy Scouts held at Interlagos, a suburb of Sao Paulo Brazil, July 27 to August 3, 1953. One million copies were printed. The stamp designer was Orlando Maia, using a photograph by "Sgt. Macon."
The photograph illustrated here is from a post card acquired from a Chilean Scout during the third World Scout Jamboree held in Birkenhead, England, 1929, by the author who was an Eagle Scout representative of the Boy Scouts of America from Oak Park, Illinois, Region VII.
---
SOSSI JOURNAL, Volume 12, Number 12, December 1963
Updates and modifications by Keith Larson