The International Convention Centre in Durban, South Africa, was the venue for the 35th World Scout Conference where close to 1000 people from 116 countries shared an unforgettable African experience.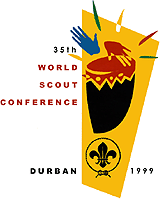 The Conference was opened by Acting President Chief Mangosuthu Buthelezi of Kwazulu-Natal. Chief Buthelezi gave a very positive message to all present. His mother, Princess Magogo, was a daughter of Dinizulu from whom B-P (Baden-Powell) obtained the renowned Necklace from which Scouting's Wood Badge beads originated. Chief Buthelezi, a former Scout and Scouter, stepped onto the podium wearing a replica of the Necklace. Several dignitaries spoke, including Dr. Jacques Moreillon, Secretary General, who gave a stirring address asking us to "Reach Out" and closing with the words - "Reach out for a deeper spirituality and a more engaged life. Reach out to God through Scouting. Reach out for a full century and a great Scout Millennium." Then the young people entertained with a miscellany of song and dance representing the "Rainbow Nation" and climaxed by the beat of African drums.
The Flame of Friendship - first brought to Mafikeng from Gilwell Park, England in 1985, to celebrate the 100 years of Mafikeng (Post cards and commemorative covers marked the event) - was carried by a team of 9 scout runners, 919 kms from Mafikeng to Durban. It was placed outside the International Convention Centre where it burned for the duration of the Conference.
A big Inter-faith Scouts' Own, the discussion, entertainment, a Conference picnic beside Hazelmere Dam and a wonderful closing ceremony, made all of the hard work put into a successful Conference by South Africa, really worthwhile. An "Extra Bonus" came to them when they learned that their former Chief Scout, Garnet de le Hunt, had been elected Chairman of the World Scout Committee.
To commemorate all of this, a special cancellation was issued by the South African postal authorities, which was applied to 1000 commemorative covers. The African drum was the centre piece of the Conference logo, and makes a very colorful cover. Limited numbers were signed by very prominent leaders in World Scouting. 100 were signed by Nkwenkwe Nkomo, Chief Scout of South Africa and 20 each by Dr. Jacques Moreillon, Secretary General World Organization of the Scout Movement, Francisco S. Roman, outgoing Chairman of the World Scout Committee, Garner de la Hunt, newly appointed Chairman of the World Scout Committee, and Winston Adams, South African Conference Director.
There is no Post Office at the International Conference Centre, but the Curio shop runs an official outgoing mailbox, from whence the post goes to the main Durban Post Office where the special World Conference post mark was in operation. World Conference staff also had a mail collection point for the convenience of delegates and took it daily to be hand stamped. So, unfortunately, there are no statistics as to the type and quantity of World Conference mail posted and bearing the special cancellation.
---
Created by Keith Larson