In 1953, delegates from 18 countries founded "The International Fellowship of Former Scouts and Guides" "IFOFSAG" with the approval of the world organizations of Scouts and Guides. Both WOSM and WAGGGS have a representative from their world body sitting as member of the World Committee of IFOFSAG. In 1996, the name was changed to: International Scouts and Guides Fellowship (ISGF).
ISGF sponsors a stamp bank program using donated used postage stamps to raise money to benefit Scout development programs around the world.
The following table list all of the WSCs and indicates what philatelic material was produced. (Research not completed, your suggestions are welcomed).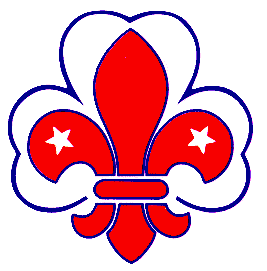 Y = Yes, C=cachet, PC=postcard, GP=Gutter Pair

| | | | | | | | |
| --- | --- | --- | --- | --- | --- | --- | --- |
| # | Year | Dates | Location | Stamp | Cancel | Seal | Meter |
| 1 | 1953 | 1024-1025 | Lucerna, Switzerland | | | | |
| 2 | 1955 | 0801-0805 | Horsens, Denmark | | | | |
| 3 | 1959 | 0812-0813 | Jambville, France | | | | |
| 4 | 1961 | 1028-1029 | Woudschotten, Netherlands | | | | |
| 5 | 1963 | 0722-0727 | Castelgandolfo, Italy | | | | |
| 6 | 1965 | 0827-0829 | Brussels, Belgium | | | | |
| 7 | 1967 | 0714-0721 | Durham, England | | | | |
| 8 | 1969 | 0823-0825 | Gripsholm, Sweden | | | | |
| 9 | 1971 | 0930-1004 | Melbourne, Australia | | C | | |
| 10 | 1973 | 0709-0713 | Vienna, Austria | | | | |
| 11 | 1975 | 0815-0820 | Aalborg, Denmark | | | | |
| 12 | 1977 | 0725-0729 | Montreux, Switzerland | | | | |
| 13 | 1979 | 0804-0811 | Bergen, Norway | | | | |
| 14 | 1981 | 0720-0725 | Dijon, France | | | | |
| 15 | 1983 | 0711-0716 | Dalfsen, Netherlands | | | | |
| 16 | 1985 | 0201-0208 | Christchurch, New Zealand | | | | |
| 17 | 1987 | 0719-0724 | Coventry, England | | | | |
| 18 | 1989 | 0806-0812 | Aalborg, Denmark | | | | |
| 19 | 1991 | 0929-1004 | Chalkidiki, Greece | | | | |
| 20 | 1993 | 0516-0522 | Yogyakarta, Indonesia | | | | |
| 21 | 1996 | 0630-0706 | Montegrotto, Italy | | | | |
| 22 | 1999 | 0221-0226 | New Delhi, India | | | | |
| 23 | 2002 | 0609-0615 | Vancouver, Canada | | | | |
---
Created by Keith Larson