Lord Baden-Powell was an active correspondent in his roll as Chief Scout of the Scouting Movement. The many letters and cards he wrote are highly sought after by both Scout philatelists and memorabilia collectors.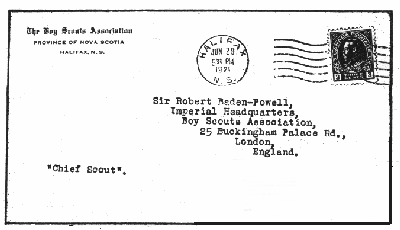 The cover above was sent to Baden-Powell from the Nova Scotia Boy Scout Association. Many covers sent to B.P. from Scout Headquarters around the world still exist today. Each in its own way is unique and is a piece of Scout postal history that can dress up any collection.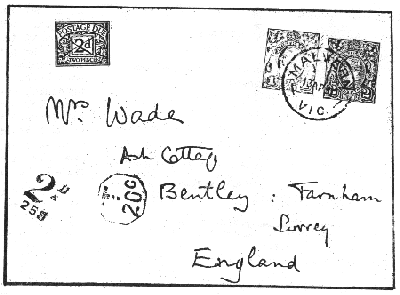 The real gems are covers sent by Baden-Powell himself. When handwritten, as this cover above, they are in addition to anything else, autographs. This cover was sent by B.P. from Australia to England when he and Lady B.P. were visiting the Scouts and Guides of Australia and New Zealand.
This letter was sent to Mrs. E.K. Wade, the B.P.s' long time secretary, friend, and biographer. Her husband, Major A.G. Wade, a stamp collector, wrote in his diary of this postage due piece: "Letter today from my Lord B.P. who if nothing else is constant in understamping letter envelopes." It seems that the B.P.s never did figure out the postage rates while in Australia.
This postcard is addressed in Baden-Powell's own handwriting. It uses the BSA Perfin stamps for postage.