Of the millions and millions of stamps that have been printed through the years, there have been many hundreds of stamps with different designs for Scouting, and the potentiality of misprints such as inverted centers or designs could be large.
There have been some stamps that have been deliberately misprinted for collectors, and some that would be of primary interest to specialized collectors, such as Scout stamp collectors. But, thus far, there are only a couple of known Scout stamp inverts.
Collector/dealer Martin Sellinger of White Plains, New York, who specializes in these stamps has published a catalog listing over 950 different inverted center stamps from 110 countries. This is not considered a complete list, only those known to Mr. Sellinger.
The oldest and perhaps most valuable inverted Scouting error is the 1918 Czechoslovakia 20h overprint. This overprint honored the arrival of President Masaryk to Prague on December 21, 1918 (Zumstein #4). Only 600 stamps were overprinted.

In 1934, a National Scout Jamboree was held at Mamaia, Romania. An earlier Romanian Scout set was overprinted with the wording "MAMAIA/1934" to form a different Scout issue (Scott #B44-49). Two stamps of this set (#B44 and B46) have been discovered with overprints in the normal black color, but inverted. It is probable that they came from the King Carol collection and are extremely rare.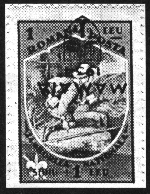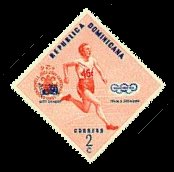 The July 1969 overprint of the Sharjah February 12, 1968 World Jamboree set includes inverted versions of the overprint "KHOR FAKKAN." Khor Fakkan was at the time a legitimate dependency of Sharjah, but this entire overprint set including any errors was considered spurious by Sharjah and invalid for postal use. They therefore cannot be considered postage stamps. The 1968 original Sharjah issue without overprint are legitimate.
The 1971 Manama 20R gold souvenir sheet has the marginal inscriptions inverted in respect to the gold stamp. This stamp is considered to be a major variety, due to probably less than 100 existing.
Another Scout stamp is the Montserrat 15 cent postcard essay, Space and Boy Scout, inverted. Three different colors are known plus overprinted specimens. Quantities existing are unknown, thus this stamp is not described as a major variety.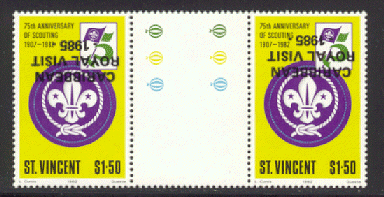 This is the 1985 St. Vincent $1.50 Scout gutter pair with the royal visit overprint inverted.
---
SOSSI Journal, Volume 12, Number 3, March 1963
SOSSI Journal, Volume 26, Number 11-12, November/December 1977
SOSSI Journal, Volume 43, Number 4, April 1994