Gutter Pair Variety

At least one sheet is known of a gutter pair for #1199 caused by a pre-trimming foldover. This is indicated by the crease in the left stamp. The gutter is selvage, either unprinted or with plate numbers, advertising or accounting or control numbers, between the panes of a sheet of stamps.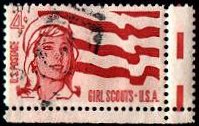 This is a full gutter snipe in a corner position. Gutter snipes are freaks caused by misregistration of the cutting device and paper foldover.
Perforate Variety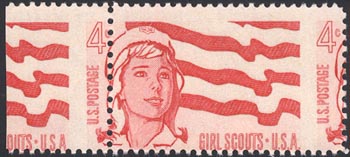 This is a mint example of the USA Girl Scout stamp honoring the 50th Anniversary of Scouting, #1199 issued 12 March 1962 which is misperfed.