More than 13 years after the 22¢ United States Girl Scouts commemorative [Scott #2251] was released in 1987, a major error has been reported.

The first major error for this issue [Scott #2251a] was created when all offset lithographed colors of black, yellow, magenta, cyan and green were omitted. The resulting stamp is a startling white background with only the black and red intaglio printing present in the badges.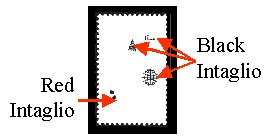 The error, different from the previously reported one, is more subtle. All black and red line-engraved intaglio is missing from the stamps on the affected pane. This is essentially a reverse printing error from #2251a.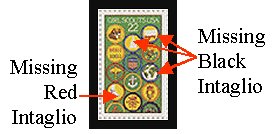 Noticeable only on the patches, the error involves missing line-work on the Capitol, conestoga wagon, latitude and longitude lines and red stripes on the shoe and sock. Intaglio sleeve numbers also are missing from the plate block.
The finder of the pane, a collector from Vermont, found the error shortly after the stamps were released in 1987. The error discovery was recently shared with The Vermont Philatelist, journal of the Vermont Philatelic Society. Rumor has it the pane may be broken up for sale.
The major error has been verified by Scott's and assigned issue number Scott #2251b. It also has these designations: Minkus CM1215v1; and Datz CO 150B.
---
Expansion of original article by Keith Larson.
Credits: Stamp Collector, February 12, 2001.
Copyright 2001 Krause Publications. Reprinted with permission.