During the years immediately following World War II there were numerous displaced persons (DP) camps in Germany. These camps were actually temporary cities of no small proportions with many of the needs of ordinary cities. One of these needs of course was a postal service. Adhesives at many camps were prepared for prepayment of mail and to guarantee delivery. These DP camp stamps are in the category of local or provisional issues rather than official country issues. No country was responsible for their release, nor required their use.
Of particular interest are the five "Detmold" Scout stamps. There was a camp for Lithuanian DP's at Detmold. These five stamps were used for postage through 1947. The Allied Military Government in Germany at that time did not evidently require postage stamps on mail emanating from these DP camps. Nevertheless, DP stamps appear on covers, both alone and in combination with regular German issues. Genuine covers with intercamp, intracamp, local and international destinations exist. In addition there were covers prepared of the FDC type as philatelic souvenirs.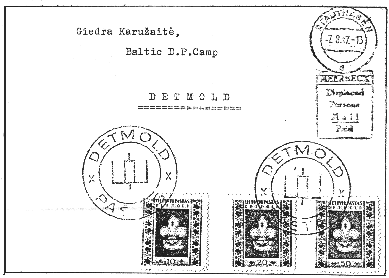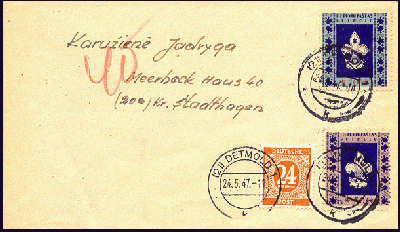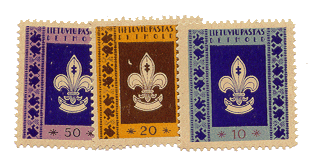 | Stamp | Quantity Issued | Color |
| --- | --- | --- |
| 10f Detmold | 19,480 | Light blue, dark blue and red value |
| 20f Detmold | 9,750 | Orange, brown and blue value |
| 50f Detmold | 6,700 | Lavender, purple and black value |
| Augsburg Overprint | 7,030 | Orange, green and red overprint |
| Augsburg Overprint, Imperforate | 2,340 | Orange, green and red overprint |
The 10f, 20f and 50f stamps were issued together in sheets of 88 as shown in the diagram. This interesting arrangement results in two types of se-tenant gutter pairs. A very small quantity are known imperforate. The background colors, which were apparently applied simultaneously to the entire sheet, did not always register exactly. This shift resulted in a white line variety.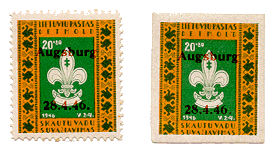 The Augsberg overprint stamp is on heavier paper and bears a red "R" on the gummed side. Only about 100 copies of the unoverprinted error are thought to exist. Probably only one sheet was made this way.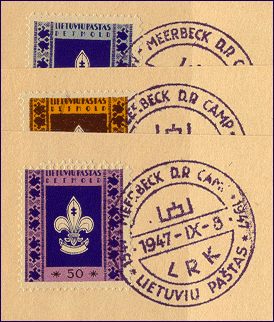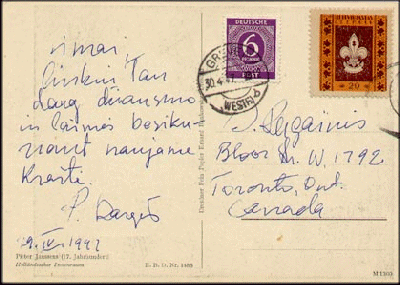 Postcard with 6 pfennig German stamp postmarked Greven Apr 30, 1947, with Detmold Boy Scout stamp cancelled by mute oval to the right of the German stamp. The card is addressed to Canada.
The value of these DP stamps belies their low printing. This is because many consider them to be in the seals and labels category. Nevertheless, they are hard to locate. Covers are very scarce. They are of interest to German and Lithuanian specialists and DP camp stamp collectors as well as Scout stamp collectors.
---
SOSSI Journal, Volume 21, Number 6, June 1972.