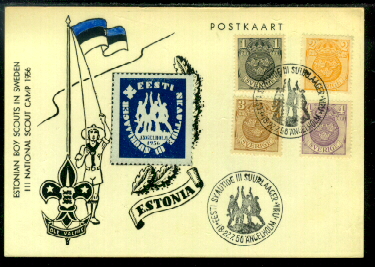 3rd National Estonian Scout Camp
1956

This cacheted postcard was issued for the 3rd National Estonian Scout Camp held in Angelholm, Sweden from the 18th through the 27th, 1956. A special Scout seal was issued for this event, which is featured in the cachet which also pictures a Scout in uniform raising the Estonian flag above the Estonian Scout emblem. Four different Swedish definitives are tied to the card by one of two strikes of a wonderful Estonian III Suurlaager Scout cancel.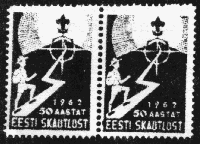 Golden Jubilee
Estonian Scouting 50 Years
1962

This fund seal was issued by the Estonian Scouts in Sweden.
---
SOSSI Journal VOL XIV, No. 5, May 1965