Boy Scouting in Latvia was founded in 1917 and Girl Scouting was founded in Riga, Latvia in 1922. Both organizations were closed in June 1940 when Latvia was occupied by the USSR. After World War II Latvian Boy Scouts and Girl Scouts renewed their groups in Germany, Sweden, Great Britain, Austria and Belgium where there were Latvian people who escaped the Communist occupation. When the Latvian displaced persons (DP) emigrated in 1949 and 1950 to the United States, Canada and Australia, their units ceased to operate in Europe, but they are now active overseas.
---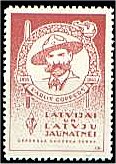 The Latvian Scouts in exile issued on Latvian Independence Day in 1961 this seal commemorating their late Chief Scout and devoted the year to the memory of this general murdered 20 years previous by the USSR. The seal was designed by Scoutmaster Janis Deksnis of Toronto, Canada. Issued in sheets of 50, they sold for $1.00 each, with proceeds going to Latvian Scout units in USA, Canada, Australia, Great Britain, West Germany, and Sweden.
The stamp was printed in red ink on white paper and depicts the image of General Goppers inside a wreath of oak leaves which have the same significance of laurel. The sword on the left symbolizes Goppers military career and his fight for Latvia's independence. The torch on the right symbolizes the inspiration he has given to the Latvian Scouts, serving as Chief Scout for 20 years.
---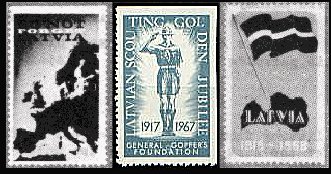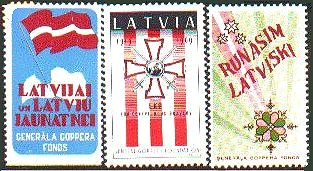 Latvian Boy Scouting Golden Jubilee
1967
---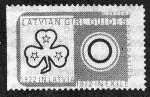 Latvian Girl Scouting Golden Jubilee
1 July 1972
The Latvian Girl Scouts in Exile celebrated the 50 years of the founding of their organization at Camp Saulaine near Barrie, Ontario Canada from 1-9 July 1972. At the same time and place the Latvian Boy Scouts in Exile were holding their 55th anniversary camp. A special seal was printed in sheets of 50 stamps. A special cancel from Brampton, Ontario franked a cachet with the camp insignia.
---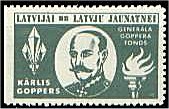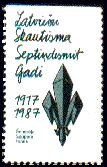 In 1990, the Latvian Scout and Guide Central Organisation (LSGCO) was allowed to be organized again in Latvia. Latvia exile Scout groups continue to be active around the world.
---
SOSSI Journal Volume 11, Number 4, April 1962
SOSSI Journal Volume 21, Number 7-8, August 1972