There are nine early Siam Scout postal cards. Each is an ordinary card with the imprinted stamps struck with the Scout Fund tiger overprint. The Type I, II and III overprints were each used on specific 2, 3 and 5 satang cards, thus making nine in all. The 5 satang card for the Type I and II overprint is an 1899, 4 att card surcharged 5 satang as illustrated. There is a known example of an inverted Type II Scout Fund overprint on a post card.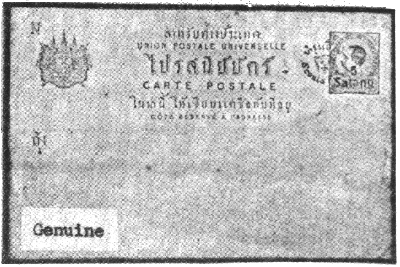 In a communication to SOSSI Journal, Gottfried Steinmann of Marksteft, Germany informed the editors that he was offered a rare Siam Scout postal card. He suspected it to be a forgery and wanted another opinion.
Forgery indeed! The Type II overprint is on a completely "wrong" 5 satang card. The imprint stamp is similar to that on the 2 and 3 satang values and the markings on the rest of the card are in turn different than any of the nine legitimate cards. If the entire card is a forgery, then the overprint itself must be counterfeit and we should be able to see the differences from the real thing.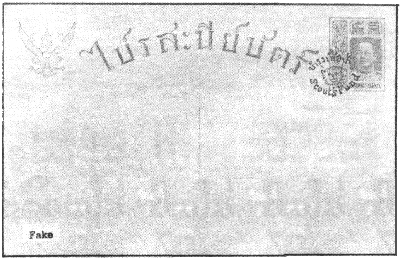 First of all the overprint is unusually clear and uniform. This is suspicious. There are several important differences in this overprint not found on any of the Editor's reference material. The space between the "n" and "d" in "Fund" is too great. The "c" in "Scout's" is wrong; it should be thicker at the top than at the bottom. The nose does not touch the middle of the upper lip. The nose does touch on the genuine overprint.
The genuine Siam Scout postal card is very expensive. If you are in the market for one, buy from a reliable dealer who can guarantee it; have it professionally expertised, or get an expert opinion.
---
SOSSI Journal, Volume 27, Number 3, March 1978
Updates and Modifications by Keith Larson