Lady Olave Baden Powell was the wife of Lord Baden Powell, founder of the Scouting movement. Lord Baden Powell became Chief Scout of the World in 1920. She served as the World Chief Guide and championed the growth of Scouting around the world for all youth.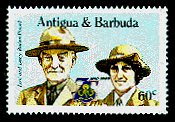 She first appeared on a stamp issued in Haiti in 1962 to honor the 22nd Anniversary of Scouting in Haiti. Since then, she has appeared on numerous stamps, souvenir sheets and post cards in recognition of her achievements. The Haiti Scout set received a special red overprint in 1964 for the winter olympics held in Innsbruck, Austria.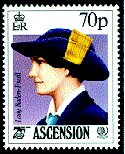 Lady BP was a young woman when she married Lord BP and became an active Scouter. Some stamps such as this one show her as she appeared in the very early days of the Scout and Guide movement.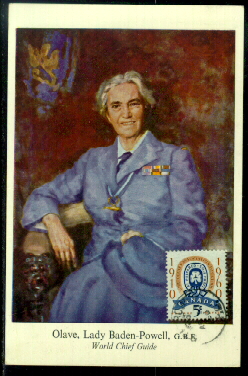 This full color vertical postcard depicts the painting of Lady Olave Baden Powell by Grace Wheatley. The card was used as a maximum card for the the Golden Jubilee of Canadian Girl Guides stamp issued in 1960. The stamp is tied to the card with a single indistinct strike of a Quebec Canada April 20, 1960 cancel, first day of issue. The card was printed in England.

Grace Wheatley's painting was often copied for other stamp issues honoring Lady BP. Here is one example from Belize.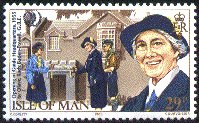 Lady BP traveled extensively in her role as Chief Girl Guide. Here she is depicted on a visit to the Isle of Man at the dedication of Cunningham House.

Lord Baden Powell visited Kenya in 1935. The "Paxtu" cottage was specially built for him. Lord and Lady BP lived there from 1938 until his death in 1941. Lord BP was buried at Nyeri, Kenya. Lady BP moved back to England after his death. She is buried beside Lord BP in Kenya.