Most members of SOSSI are interested in the stamps and first day covers issued in conjunction with World Jamborees. A few are interested in the official patches and neckerchiefs worn by the participants. Some collect the various official books, pamphlets, newspapers and other paper relating to the Jamborees. I have found very few Scouters who actively collect post cards related to World Jamborees.
This article is not intended to be a complete or master list of all official and unofficial post cards issued for past World Jamborees but rather a stroll thru a generally unknown area of collecting related to Stamp Collecting. While many of the post cards shown are unused and of no interest philatelically some are Jamboree covers with Jamboree cancellations and even first day covers and cachets.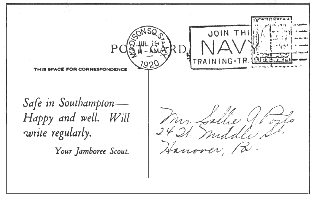 The cards for the 1920 World Jamboree include a series of at least four cards issued by the American contingent. One of these is of the "Old Wall at Southhampton" and the picture side has no Scout content. However, the message side has a preprinted Scout message. My card is addressed by the Jamboree Scout to his parents and signed, but the postmark is "Madison Sq ST. July 19, 1920." Obviously these cards were prepared for mail prior to their departure and in the days of a 14 day ocean crossing, and no air mail, they were mailed after a single cablegram was sent from Southhampton. There is also a series of unknown size of photographic cards of the booths at the Jamboree.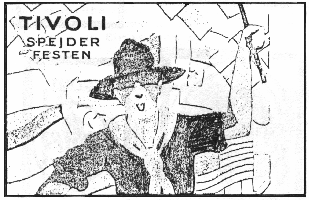 Probably the premier Jamboree post card is the official 1924 World Jamboree card which is very colorful and generally known as the "Tivoli" card (black & white image shown here). There is also a series of photographic cards of activities and troops at the Jamboree site.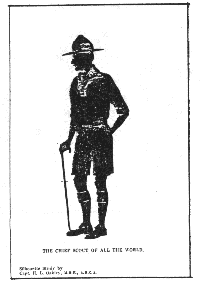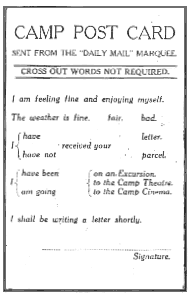 The cards for the 3rd World Jamboree at Birkenhead, England, 1929 include a silhouette card of Baden-Powell "Chief Scout of the World." It is possible that this card was not issued for the Jamboree but sold there.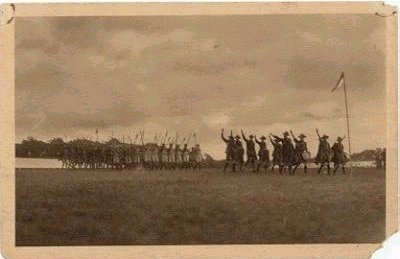 This is a French card of the opening ceremony "Le salut á Baden-Powell," printed by Edit Journal des Éclaireurs, Horizons de France Imp. Paris. There again is a series of unknown number of photographic cards. An aerial view of the Jamboree site is on one card. Message cards were at the Daily Mail tent for Scouts to write home. A set of 20 photographic cards were issued by the Journal des Eclaireurs.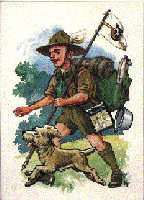 At the 4th World Jamboree at Gödöllő, Hungary, there are a wide variety of cards including many Marton cards though they may not have been originally issued for the Jamboree. There is a wide variety of cards, some specially designed and some issued by foreign contingents. An incomplete set of 20 French cards as well as a Polish card are in my collection. There are picture cards of various American troops as well as a series of photographs of activities of unknown numbers.
There were probably more cards for the 5th World Jamboree at Vogelenzang, Netherlands issued than for any other Jamboree. Claude Marchal has a list of several hundred cards with several different series of photographs of leaders and activities at the Jamboree. Outstanding among the cards are two poster type cards similar to the posters used to publicize the Jamboree. There were 4 Polish cards and 4 Dutch East Indies cards as well as photographs of the American units probably taken in Washington at the National Jamboree before departing for overseas as none of the Scouts are wearing a World Jamboree patch.
The cards for the 6th World Jamboree at Moisson, France are the most noteworthy for the series of 4 cards by Jobert. Additionally and much better known to stamp collectors were the variations of the Jamboree carrick knot as a post card and used as a Maxicard with the official French Jamboree stamp.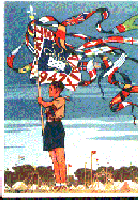 There were two series of view cards for the 6th World Jamboree. One was issued in booklet form of ten cards and the other series had 20 view cards. There were a series of 6 cards in a cardboard folder issued by the French National Railway which apparently were given to Jamboree Scouts riding the railroads, but the scenes were not of Scouting activities. There were the Ukrainian post cards issued in three colors and sold by them to raise money for their expenses, since they were for the most part living in the Displaced Persons camps. There were also some Czech post cards that frequently appear with Jamboree cancellations.
From this point on in World Jamborees the number of post cards associated with individual Jamborees decreased. It was not until 1967 for the 12th World Jamboree in the U.S. did the host nation issue a card with valid postage. Norway was to follow suit with a card for the 14th World Jamboree in 1975.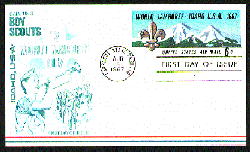 While the host nation might know how many cards will be offered at the Jamboree trading posts, no one knows the total number of different cards to be issued in conjunction with the Jamboree by contingents, units or individuals. Complicating this is commercial issues and countries holding Join-In-the Jamboree and issuing cards with the Jamboree emblems on them.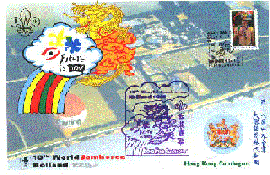 ---
SOSSI Journal, Volume 36, Number 12, December 1987.
Updates and modifications by Keith Larson
---