This envelope from the BSA National HQ contains a copy of the Home Folks Newsletter #12. This newsletter is a mimeograph single page of the news of the day for August 23, 1920. Mr James West, Chief Scout Executive, send telegrams back to New York for relay to the parents. The Boy Scouts were in London, England attending the First World Jamboree.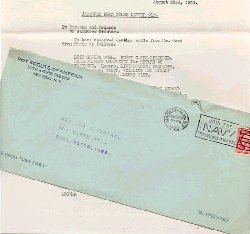 To Parents and Friends of Jamboree Scouts:-

We have received another cable from Mr. West from Paris as follows:

Both groups well. Fever cases splendid arrangements completed for return of everyone. Messrs Livingstone, Phillips, SS Baker, Bhler, Vitalius and Myself sail on Mauretania August 21st.

The Cunard Line advises us that they expect the Mauretania will dock at Pier 56 Hudson River, Foot of West 14 Street Manhattan (New York City) either Friday or Saturday of this week. The War Department Overseas Transportation Office reports that the U.S. Transport Princess Matoika arrived at St. Nazaire yesterday and after spending a day or two there will proceed to Brest (Which the Overseas Transportation Office informs us takes about two days) and after a day or two there will embark for New York Harbor in the Expectation of arriving Monday, September 6th, which is Labor Day.

We will keep in touch with the Overseas Transportation Office and promptly relay to you any further vital or interesting information. VSY A. O. Olson, Assistant to the Chief Scout Executive.
---