Saturday May 27th saw the official opening of the long awaited Avalon Bridge, now named Kennedy-Good Bridge after the long serving Mayor of Lower Hutt. Because of an exceptionally wet May it had not been possible to seal the approaches and the bridge was only opened to traffic for three hours after the 2 pm opening ceremony.
Local Lions and Rotary Clubs combined to sell passports to cross the bridge and the Belmont Scout Group, whose den is in the Belmont Domain at the western end of the bridge, set up a model camp for the gala day, including a Scout Mail Office selling souvenir covers, for carriage across the bridge to nearby Avalon Post Office. All mail carried a Scout Mail label and a cachet depicting the bridge and the Avalon T.V. studios. The mail was numbered before dispatch and appears to have been poorly patronized, only 456 items being carried. The mail is postmarked 28th May, this being the Monday when Avalon Post Office re-opened.
A total of 1,000 sheets of labels were printed in sheets of six showing a runner. The runner was Malcom Nielsen, a junior Scoutmaser (Kauri), who organized the mail, from Belmont, near Avalon, New Zealand.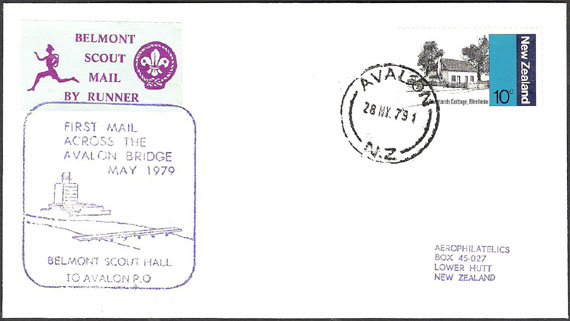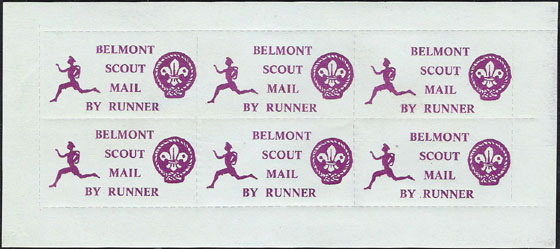 Belmont Scout Mail
Avalon Bridge Opening
28 May 1979

---
SOSSI Journal, VOL 28, No. 11, November 1979