Harry Squatrito, who lives near Newark, Delaware, has a summer residence at Cape Windsor near Fenwick Island. Squatrito admires the Fenwick Island Lighthouse. When he discovered that his favorite lighthouse was celebrating its 100th birthday (June 1969), he decided to start a post office (local post) and issue a stamp to commemorate the lighthouse's birthday.
Squatrito issued three commemorative Scout stamps among over 30 issues, each with a 10 cent value. They were sold in blocks of four.
February 8, 1970 - 50th Anniversary of American Boy Scouts
February 8, 1972 - Honoring Cub Scouts
March 12, 1973 - Honoring Girl Scouts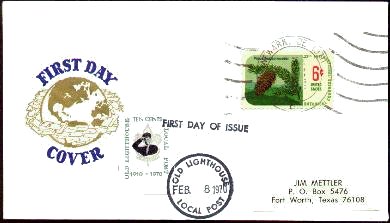 February 8, 1970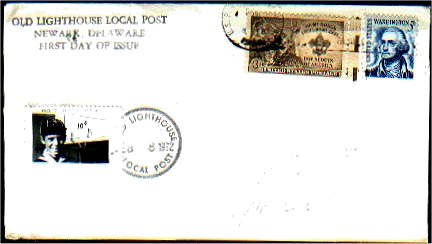 February 8, 1972
The Cub Scout pictured on the second Old Lighthouse Scout Local Post issue is Gary Squatrito, Harry's nine year old son, who was a member of Cub Pack 941 in Robscott Manor, Del-Mar-Va Council, Boy Scouts of America.
---
SOSSI JOURNAL, Volume 21, Number 2, February 1972.
Updates and modifications by Keith Larson, 1999