The main source of communication in the Lone Scout group was done by the mails. Its monthly publication was a newspaper type that was sent via the United States Post Office to all its members. It was sent by the special post class for newspapers. Renewal notices and other replies to members inquiries where the most cost effective way they could find. This left us both an event and true postal history of this group.
In 1935 there was the Second Annual Convention of the Elbeetian Legion, organized in 1927 as the oldest international Scouting alumni after the Lone Scouts merged with the Boy Scouts. The Convention was held in Cleveland, Ohio form August 31 to September 2, 1935. A special souvenir cover was produced for the convention. It is pictured below, the cachet is printed in black on orange paper. The cover is canceled by a machine canceller in black on the first day of the Convention.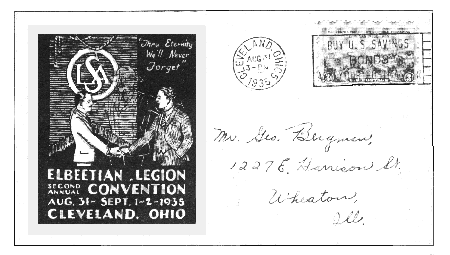 The cover below is a third class (Printed Matter) mail. The one cent stamp (Scotts #498) is tied by an oval undated parcel hand canceler. This was the cheapest rate for mailing out membership renewals. The contents of the envelope are intact, but give us not help in dating the cover.

The key to this cover is the stamp itself. It is the green one cent Washington design (Scott's A140), flat plate printed with perforations of 11 on all sides. The dates of usage of this stamp is 1917 to 1919. I am sure that the stamp is used in the correct time period for this was run as a business by Mr. Boyce and would have used the most current stamps for mailing.
So this is a very early Scout cachet for all collectors to be on the hunt for. This is the fun of collecting Scout covers. Have fun in the hunt for covers and postal history.
---
SOSSI JOURNAL, Volume 44, Number 1, January/February 1995.
Updates and modifications by Keith Larson
---