Indonesia Post has two stamp issues with se-tenant personalized labels available.
The first personalized stamp, or in Indonesia named as "Prisma" (Prangko Identitas Milik Anda) = "Your Identity Stamp," was issued on October 9, 1999 on the occasion of the 125th Anniversary of Universal Postal Union (UPU). There are two stamp designs:
a. Past postal service, depicting old post pillar box, old post office building, and a postman in his horse. (Shown above)
b. Present postal service, depicting postbox, new high-level post office building, and a postman in his motorbike.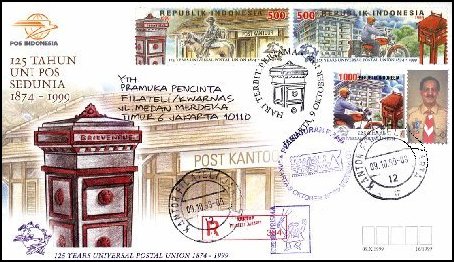 Total printing was 200,000 sheets (each sheet contains 10 stamps), with 1,000,000 for each design. Each sheet contains 5 stamps in vertical row with the design of past postal service, and the other 5 stamps with the design of present postal service.
The size of the sheet is A4 paper size (quarto size). Each sheet sells for Rp20,000 (although the total face value of the stamps is only 10x Rp 1000 = Rp 10,000).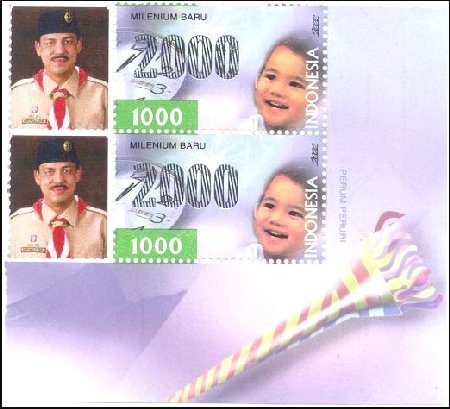 The latest personalized stamp was issued on April 1, 2000 and the design is same as the design of the "Indonesia 2000" (World Stamp Exhibition) series no.4. The designs are several kind of gem stones (mineral) from Indonesia. The personalized stamp have four face values: Rp 500 for usual domestic mail, Rp 1,000 for express domestic mail, Rp 2,000, and Rp 5,000 to add the rate for sending mail overseas. This personalized stamp will also be sold at "Indonesia 2000" World Stamp Exhibition which will be held at Jakarta Convention Centre, August 15-21, 2000.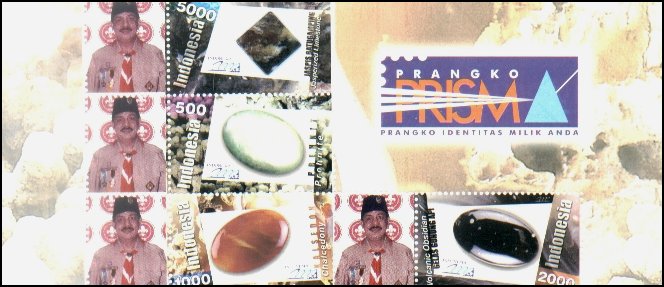 You can go to the Central Jakarta Post Office, and make your photo there, or you give the postal clerk a 3R or 4R size photograph. If you leave the photo, the process will be around 2 days, while if you take your photo in the post office, the printing will only take around 30 minutes or 1 hour. Contact Divisi Filati, Philatelic Division, Jalan Cilaki No. 73, Bandung 40115, Indonesia.