A field catching the attention of the First Day Cover fan is the collection of first day dated stamps. This is a definition given by Adam K. Bert, a pioneer in the "bullseyes" as they are often called.
"Single stamps, soaked off cover, with postmark of the first day city and date cancelled on the stamp."
There are three types of bullseye cancellations. The machine and the hand cancellations are basically the same, but are slightly different in format. The medallion cancellation is the pictorial portion of the first day postmarks that were in use from 1958-1962. Pictured below are examples of each type on the U.S. Boy Scout stamp of 1960.

Stamps such as these are very scarce prior to about 1950. As the demand grew, more bullseyes of each new issue were serviced. Recent issues can be bought for a little more than the cost of a regular FDC, but higher prices are not uncommon.
Bullseyes of the 1950 Boy Scout stamp (#995) are quite scarce. It is doubtful that more than several dozen exist. Examples of the Juliette Low Girl Scout stamp (#974) are probably a little more common. Medallions exist only on #1145 and are fairly scarce.
A few first day dated stamps always add an unusual touch of distinction to any collection.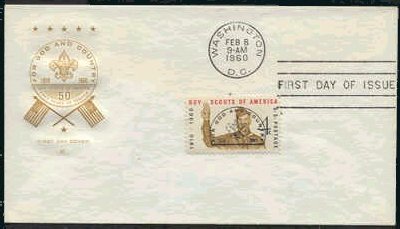 ---
SOSSI JOURNAL, Volume 19, Number 2, February 1970.
Created by Keith Larson