For a very short time, the United States Postal Service allowed this "Mailers Postmark Permit" design to be used in 1973.
Harry J. Thorsen Jr, the founder of SOSSI and editor of Scout Memorabilia obtained a permit with a Scout slogan. This example is a 1967 World Jamboree 6 cent post card franked with a 3 cent Boy Scouts of America stamp to satisfy 1973 postage rates.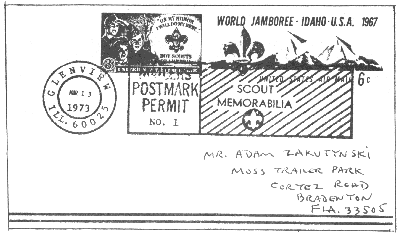 The Sunset Trails Chapter #10, SOSSI, was granted mailers postmark No. 100 by the U.S.P.S. Use began on 14 April 1973 at the monthly Sunset Trails Chapter meeting. This example was hand-stamped in black ink.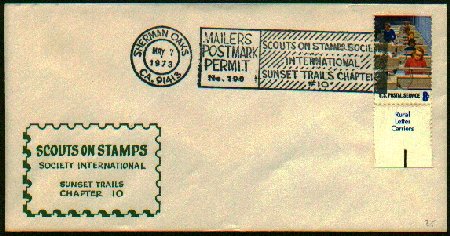 ---
SOSSI JOURNAL, Volume 43, Number 2, February 1994
SOSSI JOURNAL, Volume 22, Number 7-8, July-August 1973