Designing special event cancels with the U.S. Post Office is a great way to promote Scouting on stamps. Many collectors are interested in collecting topical cancels. In addition, the special event provides an opportunity to display Scout philatelic items and recruit new SOSSI members. I have had four cancels approved in the past, supporting both the Boy Scouts and Girl Scouts at District Shows in Central Texas.
You should begin planning your cancel at least six months prior to the day of the event. Contact your Postmaster and receiver their commitment to the event. Only postal employees may handle the actual posting because it is mail. It is possible to be sworn in as a temporary postal mail handler by your Postmaster for the special event. The U.S. Postal Service also requires several special accounting procedures for the cancel. Submit your final cancel design along with a letter requesting the pictorial cancellation to the supporting Postmaster at least twelve weeks before the event.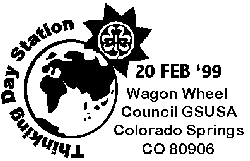 Constructing the special event cancel is a lot easier today using the computer and clip art. The U.S. Postal Service requires you to include the special event station name, city, state, zip code and the date in your design. I recommend you review several copies of the Postal Bulletin at your Post Office to see the wide variances in cancel designs. Your final design must be photo ready, preferably laser printed for maximum clarity. If your design is too big, it will be photo reduced.
People attending the special event may obtain the cancellation in person at the temporary post office station. Those who cannot attend may submit a mail order request.
All requests for U.S. pictorial cancels are available only for the dates indicated. Requests must be postmarked no later than 30 days following the requested cancellation date. All requests must include a stamped envelope or postcard with first class postage. You cannot use postage items issued after the day of the event. The U.S. Postal Service recommends inserting a card of postcard thickness in envelopes for sturdiness. Place the envelope or postcard in a larger envelope and address it to:
PICTORIAL CANCELLATIONS
NAME OF POSTAL STATION
ADDRESS
CITY, STATE, ZIP CODE + 4 CODE

After applying the pictorial cancellation, the U.S. Postal Service returns the envelope or postal cards through the mail. Customers who want their serviced items returned under protected cover must include a larger, stamped self addressed envelope.
---
SOSSI JOURNAL, Volume 45, Number 2, March/April 1996.