Sir David Attenborough, former Boy Scout, is a producer of movie documentaries on ecological issues. He also is a noted author on birds and animals.
In 1985, Sir David was knighted. Over the years he has received honorary degrees and a number of prestigious awards including Fellowship of The Royal Society. He is a Trustee of the British Museum, and the Royal Botanic Gardens, Kew and President of the Royal Society for Nature Conservation.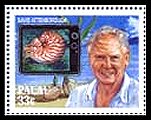 Palau issued a commemorative series "Environmental Heroes of the 20th Century" on February 1, 1999 which featured environmentalists on stamps. A television screen showing a chambered nautilus is illustrated on the Attenborough stamp.