Lucille Ball (-) a Girl Scout from Celeron New York, was one of the most popular women comedians on television with her "I Love Lucy" show. She was also a businesswoman. In 1962, when Desi Arnaz retired as president of Desilu Studios, Ball purchased his entire holdings and became the first woman president of a major Hollywood production company. She later sold it and formed her own company, Lucille Ball Productions.
In addition to receiving four Emmy Awards, Ball received numerous other honors. She was one of the first inductees into the Academy of Television Arts and Sciences Hall of Fame in 1984 and received the Kennedy Center Honors in 1986. Shortly after her death on April 26, 1989, she was posthumously awarded the Presidential Medal of Freedom.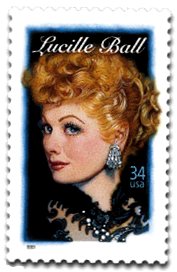 A postage stamp was issued August 6, 2001 honoring Lucille Ball in the Legends of Hollywood series.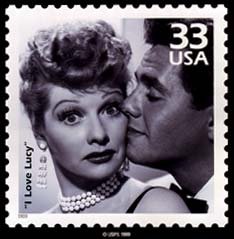 Lucille Ball has previously appeared on U.S. postage. On May 26, 1999, in Springfield, Mass., an "I Love Lucy" stamp, featuring a black-and-white photograph of Lucille Ball and Desi Arnaz, was issued as part of the Celebrate The Century stamp series. It was among the U.S. public's 15 selections for stamps commemorating the 1950s.