Sir Jack Brabham was without doubt Australia's greatest international racing car driver, winning three World Drivers' Championships in 1959, 1960 and 1966. In 1963 he won the AGP at Warwick Farm NSW, in a Brabham BT4 Climax, driving a car of his own design and construction. He also won the 1964 AGP in a Brabham BT7 Climax. Brabham's winning car at the 1966 World Formula One Driver's Championship was a Repco-Brabham. Repco developed the engine in Australia, helping Brabham become the first person to win the Championship driving a car built in his own factory.
He was awarded the OBE in 1967 and in 1979 was knighted for his services to motor sport.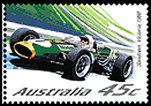 Australia Post issued on 1/03/2002 the Motor Racing Legends. The stamps have been illustrated by motor racing artist Fredd Briggs and feature famous moments in Australian motor racing. One stamp shows Brabham racing the Repco-Brabham in the Tasman Series at Sandown, Victoria, in 1966, the year he won the world title in the same car.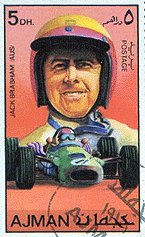 "I was in the Cubs in the Hurstville area for about two years, around 1938-39. It was important to me, as it was the first time I had been involved in something that taught some discipline and sharing with others." - Sir Jack Brabham