President Jimmy Carter was involved in Scouting as a troop committee chairman and Scoutmaster. In support of the President's appeal for an energy conservation program, the Boy Scouts of America held a Scouting Environment Day, April 23, 1977, with other programs planned to make a major contribution toward achieving national energy conservation goals.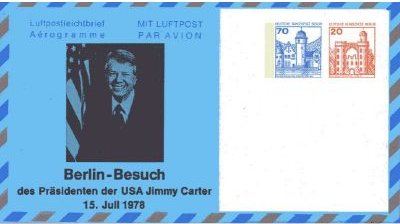 This is the 20pf+70pf aerogram issued on 15 July 1978 to mark the Carter visit to Berlin.
"As a former volunteer Scout leader ... I am greatly impressed by the role of your fine program in our national life. It is a constructive initiative on the part of young Americans to explore career interests and to become better prepared for a more satisfying and rewarding future."