Jean-Baptiste Charcot (1867-1936) served as the President of Éclaireurs de France from 1911-1925. Commander Charcot---gentleman, explorer, scientist, doctor, philosopher---was truly a great man. He was honored by France and Britain in several postage stamp issues.

Souvenir card honoring Jean Charcot, postmarked 26.6.38 with the first official Scout cancellation in France. The cancellation was in use in connection with "Plein Jeu", an outdoors arrangement in Paris Surcharge with postage stamp for the benefit of French Scouts ("Éclaireurs de France") Interdenominational Association.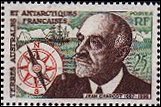 Jean Charcot was a noted explorer, leading several notable French Antarctic Expeditions. On the night of September 15, 1936, the POURQUOI-PAS? met her demise as she went to the bottom during a storm off the coast of Iceland. The Captain, Jean-Baptiste Charcot, went down with the ship.