Dean Cornwell (1892-1960) studied at the Art Institute of Chicago. He began his career, in 1914, as an illustrator for such publications as Redbook, Good Housekeeping, and Harper's Bazaar. He also did posters, calendar art and book illustrations, and taught at the Art Students League in New York. His dynamic paintings accompanied stories by Ernest Hemingway, Pearl S. Buck, and other prominent writers.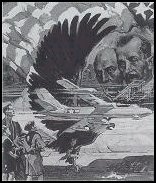 Cornwell studied mural painting with British artist Frank Brangwyn and after 1927 devoted himself to painting murals. He also taught at the Art Students League in New York where he had a profound influence on such artists as Harry Beckhoff, Rico Tomaso and Frank Reilly. In 1922 Cornwell was elected President of the Society of Illustrators. He was remembered as the "Dean of Illustrators."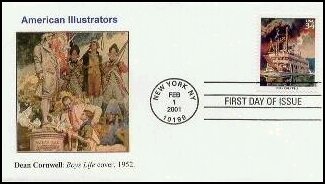 On February 1, 2001, the U.S. Postal Service paid tribute to the unique and historic art form with the issuance of the American Illustrators stamp pane. Cornwell's stamp is a cover illustration from "True" magazine, February 1953. This first day cover for the new American Illustrator stamp for Dean Cornwell shows one of his "Boys' Life" covers showing a Boy Scout at the foot of a statue of Nathan Hale.