Florence Griffith Joyner (1959-1998), Girl Scout who was a famous Olympic Athlete. At the 1988 Olympics in Seoul, she won three gold medals (plus a silver), setting two world records in the process. Griffith Joyner remains the fastest woman in history as the world-record holder in the 100 and 200 meter dashes.
She was later named co-chair of the President's Council on Physical Fitness and Sports in 1993. The former Associated Press Female Athlete of the Year and Sullivan Award winner was inducted into the USA Track and Field Hall of Fame in 1995.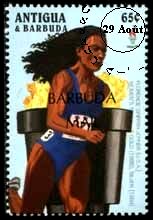 She was commemorated on this issue of Antigua for the 1998 Olympic Games.