Percy Lavon Julian (1899-1975) was a world-renowned chemist and humanitarian. Percy Julian's life in research often made use of soybean products and led to discoveries in the manufacture of drugs, hormones, vitamins, amino acids, paint and paper. Dr. Julian was the holder of 19 honorary degrees and 18 academic and civic citations. He was a trustee of six colleges and universities and was active in a variety of civic organizations and enterprises. He served as the Troop Committee Secretary, Troop 8 Boy Scouts of America, Oak Park Illinois.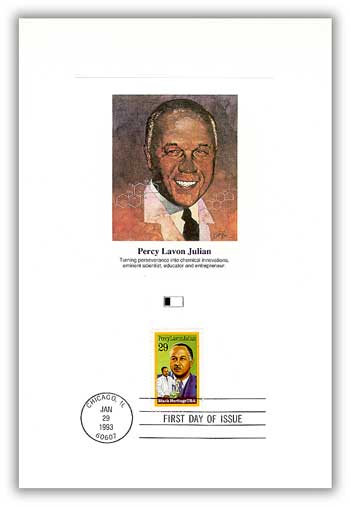 A postage stamp was issued January 29, 1993 honoring Percy Julian as part of the Black Heritage series.
"Percy Julian was not only a remarkable chemist," wrote his biographer, Bernhard Witkop, "but also a great humanist who made a lasting impression on his friends, colleagues and the public at large."