Dorothy Lamour (1914-1996), was a Girl Scout who became a famous movie female lead and singer. Dorothy was a beauty contest winner ("Miss New Orleans" of 1931) who became an instant star at Paramount with her debut appearance in "The Jungle Princess" (1936). She is perhaps best remembered as the glamorous romantic cornerstone of the seven "road" comedies she made with Bob Hope and Bing Crosby, beginning with "Road to Singapore" in 1940. Lamour later appeared very occasionally on stage and TV.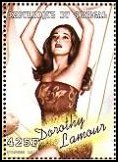 Dorothy performed for 14,000 Girl Scouts on March 8, 1952 at Los Angeles, California Shrine Auditorium (sponsored by May Company).
Dorothy also appeared in the "Jamboree Variety Review" for the Third National Boy Scout Jamboree (July 17-23, 1953) held at Jamboree City (Irvine Ranch), California.