Joseph Christian Leyendecker (1874-1951) was born in Germany and emigrated with his parents and younger brother, Frank, to America in 1882. Showing an early interest in painting, he got his first job at 16 in a Chicago engraving house. In the evenings after work he studied at the Chicago Art Institute, and later attended the Academie Julian in Paris.
In 1896 Leyendecker won a competition held by The Century Magazine (Maxfield Parrish was second). His prize was to illustrate one of their covers. He set up his own studio and his illustrations were published in several national magazines. He illustrated more than 300 covers for "The Saturday Evening Post" and was a role model for Norman Rockwell. Leyendecker also created the Arrow Collar Man, an advertising icon.
During the First World War Leyendecker produced several posters for the government including the famous, Weapons for Liberty. He was remembered as the "King of Illustrators."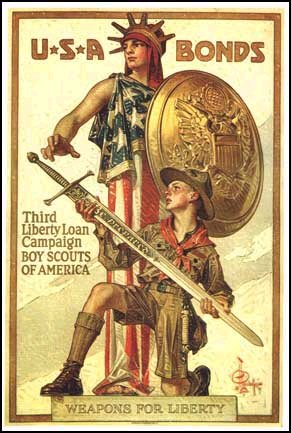 This first day cover for the new American Illustrator stamp for Dean Cornwell shows one of his "Boys Life" covers showing a Boy Scout at the foot of a statue of Nathan Hale.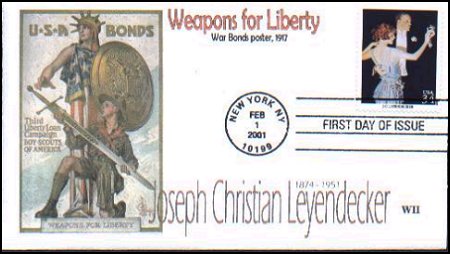 On February 1, 2001, the U.S. Postal Service paid tribute to the unique and historic art form with the issuance of the American Illustrators stamp pane. Leyendecker's stamp is a Arrow Collars and Shirts advertisement, 1923.